Carl von Ossietzky University of Oldenburg (CvO), Germany

Since its establishment in 1973 UO has upheld a commitment to a comprehensive approach to environmental research. Today the university can look back on over 30 years of interdisciplinary environmental and societal research.
Over the past decades, UO has been successfully involved in the implementation of teaching, research and knowledge transfer programmes in collaboration with developing countries. Regarding the Network, special programmes exist in the fields of (i) Renewable Energy (RE), (ii) Environmental Management Information Systems, (iii) Sustainability Economics and Management and (iv) Water and Coastal Management.
During the past 20 years, Carl von Ossietzky University Oldenburg sustainability research with its more than 200 researchers from various disciplines focused on four main research domains, namely (i) energy research, (ii) marine and coastal research, (iii) environmental management information systems, ecological economics and sustainability management as well as (iv) ecosystems and biodiversity research. The research interests of these domains cover the entire range from global down to local scales and are structured within a university-wide sustainability strategy (see www.coast.uni-oldenburg.de/eng/38296.html).
"Developing Sustainability" at the Center for Environment and Sustainability Research COAST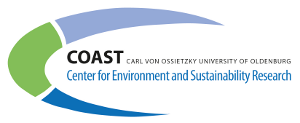 COAST interlinks all the environmental and sustainability related research and education activities at Oldenburg University throughout the different disciplines. The Center provides a platform for interdisciplinary research projects of the associated institutes and for the interaction with external partners in interdisciplinary projects- One of COAST´s thematic core pillars is International development cooperation, being represented in "Developing Sustainability" but also in more international projects coordinated at COAST, for instance Clim-A-Net.
Contact
Developing Sustainability Project representative at UO
Prof. Dr.-Ing. Jorge Marx Gómez
Carl von Ossietzky Universität Oldenburg
Fakultät II - Department für Informatik
Abt. Wirtschaftsinformatik I / VLBA
Ammerländer Heerstr. 114-118
26129 Oldenburg / Germany
Telephone: +49 441 798 - 44 70
Telefax: +49 441 798 - 44 72
This email address is being protected from spambots. You need JavaScript enabled to view it.